Travel to Nomads is glad to invite you to come and visit to our FAM trip in beautiful Mongolia. This trip will take you in Gobi Desert and legendary Orkhon valley. Orkhon valley is listed in UNESCO world heritage and recognized as the capital city of Great Mongol Empire and city was strategically located at the crossroads of traditional routes, creating a staging post for migrating nomads and merchants caravans. Mongolian Gobi was named as one of the 50 places of Lifetime. Decades ago it was natural site of museum of dinosaur's fossils and findings. When you take a part of Gobi – you will have the chance to walking on steppe, once was home of dinosaurs, visit to camel breeding families and caravanning with camel riding and endless opportunity for photography.
Day1. Arrival
Welcome to Ulan Bator, capital city of Mongolia and transfer to hotel RAMADA. Enjoy city touring with Gandan monastery, Mongolian National Museum, Central Square and Zaisan memorial. Lunch and dinner are at Mongolian and European high serviced restaurants. Hotel Meal:L,D
Day2. Ancient capital Kharkhorin.
Drive to Orkhon valley to visit to ancient capital Kharkhorin of Great Mongol Empire in 13th century. Nowadays, the first Buddhist monastery Erdenezuu located on the ruin of the Khakrhorin. On the way you will repeatedly stop for photo shooting. Overnight in Mongolian traditional dwelling Ger. Meal:B,L,D
Day3. Ongi
Today our trip will towards to the south for Gobi Desert. Arrive in Ongi khiid area for overnight. On the way, you will have delicious grill lunch in the nature. Overnight in Ger camp. Meal:B,L,D
Day4. Dinosaur's land
Travel to Bayanzag. Here you will see Gobi's saxsaul forest and red flaming cliffs. Bottom of Ancient Sea which excited 60-70 million years ago where a lot of Paleontological findings have been discovered. The place is known as Flaming Cliffs so named by Roy Andrew Chapman American explorer, who had visited Mongolia in 1920. During the 2 years he searched through the Mongolian Gobi desert and unearthed over dinosaur skeletons of different species. Overnight in Ger camp. Meal:B,L,D
Day5. Golden sand dune
Travel to Khongor sand dune which is well known name by "Singing dune" and stretches for 180km. When run down from the dune's top you will hear special sound like airplane. Visit to camel breeding family and short camel riding to the sand dune. Hiking up to the golden sand dune and sliding down. The area makes Oasis with rocky mountain, golden sand dune and green steppe. Overnight in Ger camp. Meal:B,L,D
Day6. Gobi Three Beauties
Drive to Yoliin am gorge which is located in the mountain named Gobi gurvan saikhan (3 beauties of the Gobi). Gorge is 2800m high from above sea level and named by Yol (Lammergeier) bird. You can see the huge ice in late of July in the canyon. Hiking through the beautiful valley. Overnight in local hotel in Dalanzadgad, center of South gobi province. Meal:B,L,D
Day7. Mongola Granite stone zone
Travel to Baga Gazriin Chuluu which is located in Middle gobi province. The area is a picturesque rocky mountain in the Granite Zone of Mongolia. Rocks look like created from layered lava. Overnight in Ger camp. Meal:B,L,D
Day8. Terelj National Park
Drive to Terelj National Park,lying in the valley of the Terelj river 80 km northeast of Ulaanbaatar, Terelj national park has long been a holiday resort for people from the capital and short – stay tourists. It is one of the most visited areas in Mongolia due to its magnificent scenery and its proximity to Ulaanbaatar. There are great opportunities for hiking, rock climbing, swimming, rafting and riding. In winter frozen rivers provide skating and snow-covered valleys are ideal for cross- country skiing and dog-sledge. Overnight in Ger camp. Meal:B,L,D
Day9. Chinggis Khaan
Short drive to Chinggis Khaan statue complex. This statue is the highest horse man statue in the world and consists of several sightseeings. Arrive back in capital city Ulan Bator. Shopping. Mongolian traditional cultural performance show. Dinner. Hotel. Meal:B,L,D
Day10. Say Good bye!
Transfer to the airport. Depart from Mongolia with sweet memories. Meal:B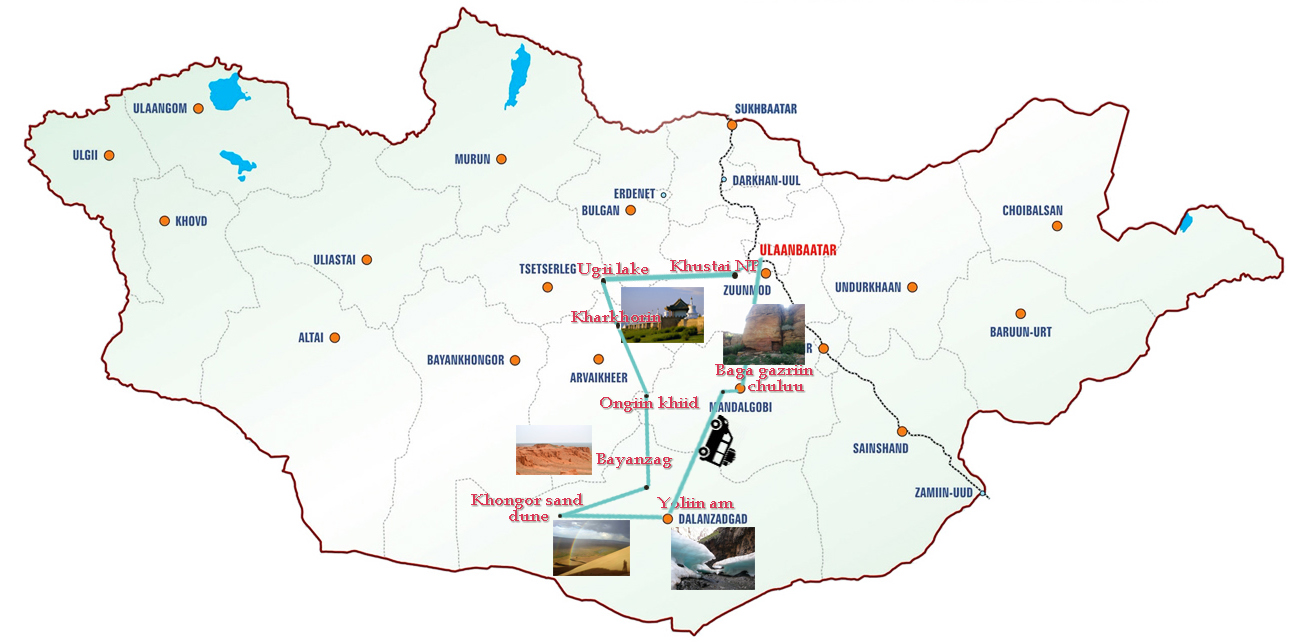 | | |
| --- | --- |
| Group size | Price / Per Person |
| 2 pax | Eu 1200 |
| 4-8pax | Eu 750 |
| | |
INCLUDED IN THE PACKAGE: NOT INCLUDED IN THE PACKAGE:
---

Hotel****

International airfare

Ger camps

Personal equipments


Full board meals

Single supplement


Guiding service

Alcoholic drinks


4x4 minivan or jeep


Entrance fees to protected areas


Museums and cultural performance



1botlled water per day