The Explore Nomads' country tour starts from the beautiful Amarbayasgalant monastery which was built in 17th century, the outstanding Lake Huvsgul & the beautiful Horidol Saridag Mountains, Tsaatan people, picturesque Khorgo-Terkh National Park and ancient capital at Karakorum. The next half of the tour takes you to the Gobi Desert and its wonderful sites: Ongi monastery ruins, Bayanzag the Flaming Cliffs, the Khongor sand dunes, the glacial Yoliin Am and Baga gazriin chuluu/Granite stone zone.
Day 1. Welcoming day.
Arrval in nomads capital Ulaanbaatar. Transfer to Hotel. City sightseeing tour with Gandan Monastery, Chinggis Khaan square and Mongolian National Museum. Meal: L,D
Day 2. Amarbayasgalant monastery.
Drive to Amarbaysgalant Monastery – one of the the largest monastery of Mongolia, built in 17th century in the memory of the Bogdo Lama Zanabazar- head of Mongolian religion. Located in the northern province Selenge, the Monastery lies in beautiful surroundings good for walking. Tourist camp
Day 3. Drive to head to Khovsgol province.Overnight at Ikh Uul village, Khovsgol province. Meal: B,L,D
Day 4-5. Travel to Khuvsgul lake
The second largest and the freshest lake of Mongolia, located in Khovsgol province. The lake is connected by rivers with Baikal lake in Siberia and occupy 1% of all fresh water on the earth. Khovsgol lake is 130km long, 40km wide and 200m at the deepest part. More than 90 rivers flow into the lake and only one river flows from the lake. Boating, hiking and horse riding days at the Khovsgol lake. Meal: B,L,D
Day 6. Travel to Jargalant natural hot spring camp.
Relaxing in the pool with hot spring and enjoy with surrounding scenery area. Meal: B,L,D
Day 7. Drive to Khorgo volcano which was erupted 7 thousand years ago. Surrounding area will make you enjoy with "Cave of yellow dog", "Ice cave" and freshwater Terkhiin tsagaan lake which was created from lava of the volcano. Meal: B,L,D
Day 8. Drive to Tsenkher natural hot spring, lies south of Tsetserleg town in Arkhangai province. The springs and streams are well developed. The waters are supposed to have curative properties for joints and other ailments. Outdoor pools are attended by staff who cool or heat the water via water-gate system; there are also indoor pools. Men and women bath separately. It is an excellent place to relax. Meal: B,L,D
Day 9. Travel to Kharkhorin
Was established in 1220 and existed for 140 years and the capital of Mongol Empire for 32 years. The first Buddhist monastery Erdene zuu -was built in 1586 by remains of Kharakhorum city. Erdenezuu monastery was surrounded by a fortress wall which has 108 stupas. We will visit to temple complex at the monastery and historical museum of ancient capital. Meal: B,L,D
Day10. Ongi Monastery.
It is ruins of big monastery of Bari Yonzon Khamba on the banks of the Ongi River. East part of this monastery has many building on the south slope of the Rocky Mountain like Balsa country and some stupas haven't` broken. This monastery has about thousands lamas. Meal: B,L,D
Day 11. Continue driving to Bayanzag.
Here you will see Gobi's saxsaul forest and red flaming cliffs. Bottom of Ancient Sea which excited 60-70 million years ago where a lot of Palentological findings have been discovered. The place is known as Flaming Cliffs so named by Roy Andrew Chapman American explorer, who had visited Mongolia in 1920. During the 2 years he searched through the Mongolian Gobi desert and unearthed over dinosaur skeletons of different species. Meal: B,L,D
Day 12. Khongor sand dune which is well known name by "Singing dune" and stretches for 180km and more than 300m high. Hiking up to the golden sand dune. The area makes Oasis with rocky mountain, golden sand dune and green steppe. Meal: B,L,D
Day 13. Yoliin am gorge which is located in the mountain named Gobi gurvan saikhan (3 beauties of the Gobi). Gorge is 2800m high from above sea level and named by Yol (Lammergeier) bird. Hiking through the beautiful valley. Meal: B,L,D
Day 14. Baga Gazriin Chuluu which is located in Middle gobi province. The area is a picturesque rocky mountain in the Granite Zone of Mongolia. Meal: B,L,D
Day 15. Arrive in Ulaanbaatar.
Shopping and Mongolian traditional cultural performance with folk song, dance, contortion, music and other customs. Meal: B,L,D
Day 16. Transfer to the airport and departure. Meal: B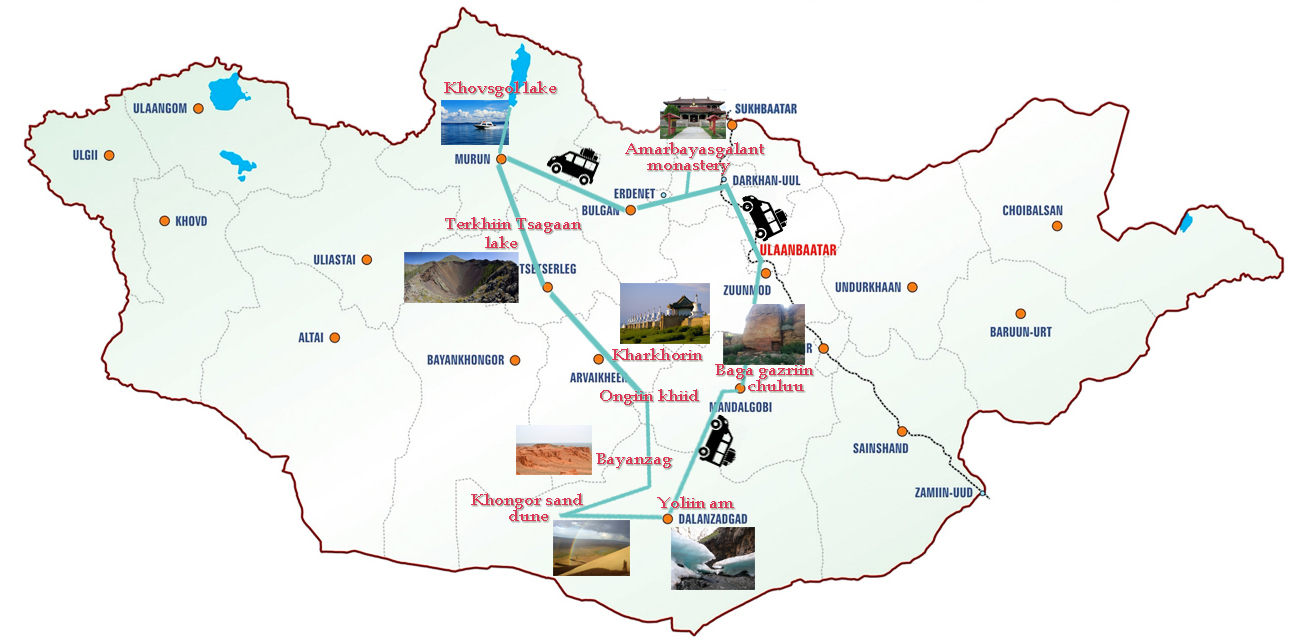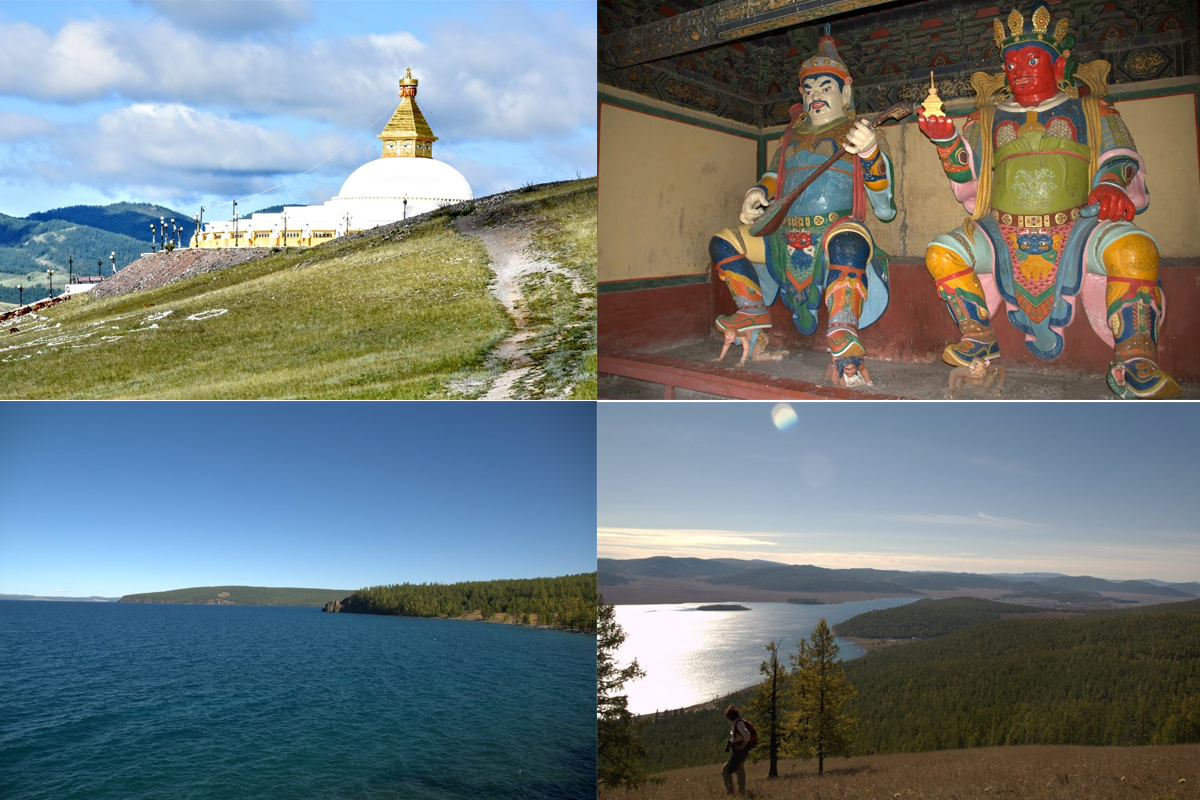 | | |
| --- | --- |
| Group size | Price / Per Person |
| 2 pax | USD 2550 |
| 3-4 pax | USD 2350 |
| 5-9 pax | USD 2150 |
| 10-15 pax | USD 1900 +16th person is FREE |
INCLUDED IN THE PACKAGE: NOT INCLUDED IN THE PACKAGE:
---

Hotel****

International airfare

Ger camps

Personal equipments


Full board meals

Single supplement


Guiding service

Alcoholic drinks


4x4 minivan or jeep+fuel


Entrance fees to protected areas


Museums and cultural performance


City touring

Priavte transfers


1botlled water per day
Related tours: